Biofrost Kylmägeeli 200ml – Tehokas kivunlievittäjä
Biofrost lääkeaineeton kylmägeeli nivelten ja lihasten kiputuloihin. Geeli vähentää turvotusta, laukaisee lihasjännitystä ja nopeuttaa vammoista ja lihasrasituksesta toipumista.
Biofrost sisältää MSM joka auttaa tehostamaan kylmägeelin vaikutusta. Metyylisulfonyylimetaani (MSM) on orgaaninen rikki, jota esiintyy luonnollisesti sekä ihmisvartalossa että joissakin ruuissa. MSM auttaa säilyttämään nivelten liikkuvuutta ja lievittää tulehdustilaa sekä lihaskipua.
Tuote jolla on monta käyttötarkoitusta:
Rauhoittava apu niveltulehdukseen.
Venähdykset, revähdykset, urheiluvammat ja mustelmat.
Niska-, hartia- ja selkäkivut sekä iskias
Lihas- ja nivelikipu.
Rasitusvammoihin ja lihasjännitys.
Reumaattiseen kipuun.
Vähentää turvotusta.
Nopeuttaa lihasten palautumista.

Ilmainen toimitus yli 40 € tilauksiin
€15.49
Kuvaus
AMAZON SELLER FEEDBACK (27)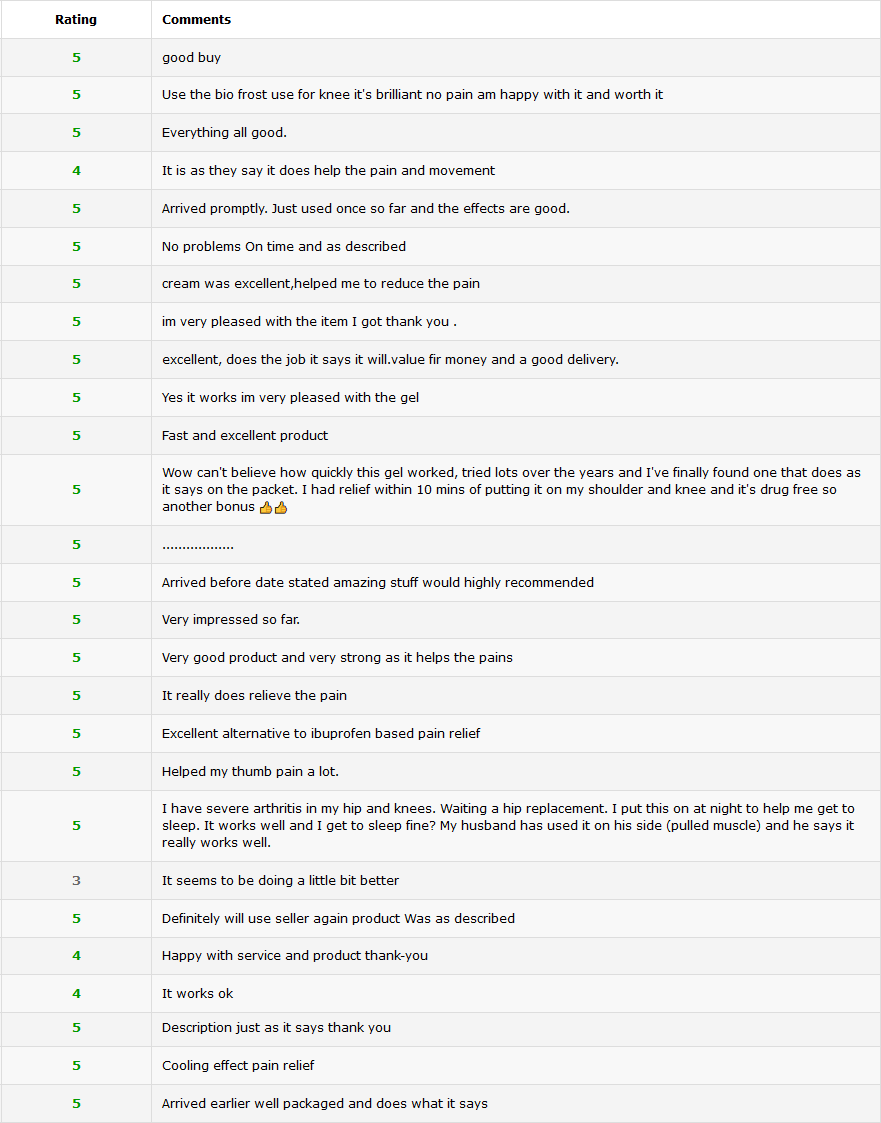 FAST ACTING & LONG LASTING PAIN RELIEF GEL
Fast acting and long lasting analgesic Pain Relief Cold Gel – Cooling Relief from Arthritis, back pain, muscle cramps, muscle & joint pain. Cold gel provides quick and effective pain relief.
Active ingredients are ETHANOL, MENTHOL, EUCALYPTUS, PEPPERMINT and MSM. This optimal combination of ingredients relieves pain.
NATURAL PAIN RELIEF GEL
Biofrost Pain Relief Cold Gel is natural pain relief product which is based on Drug-Free Cold Therapy treatment. It is manufactured from natural ingredients and it is safe to use.
COLD GEL IS COMMONLY USED IN SPORTS
Cold Gel is commonly used in sports it decreases the pain sensation and muscle soreness following from physical exercise and exertion, improves strength and speed up the muscle recovery. Ethanol and Menthol improves the endurance of exercise by improving the oxygen intake and reducingthe production of lactic acid of the muscle.
NATURAL PAIN RELIEF WITH SEVERAL USES
Soothing Relief from Arthritis, Neck-, Shoulder and Lower Back Pain, Muscle Exertion & Muscle Tension, Headache, Muscle related pains, Chronic pain, Nerve pains, Rheumatic Pain, Strains, Sprains, Sport Injuries and Bruises Recovery after physical exercise.
HELPING THOSE WHO SUFFER FROM PAIN
We believe we can help people who suffer from pain by producing effective, high performance cold therapy products. Our vision is to work hard every day to find the best formulations and products for quick and efficient pain relief.