Natural Pain Relief Cold Gel for Arthritis, Sports, Muscle & Joint Pain.
We are specialized for natural pain relief products which relieve painful conditions.
Our main goal is to make products that works and people who buy Biofrost products are happy with the purchase.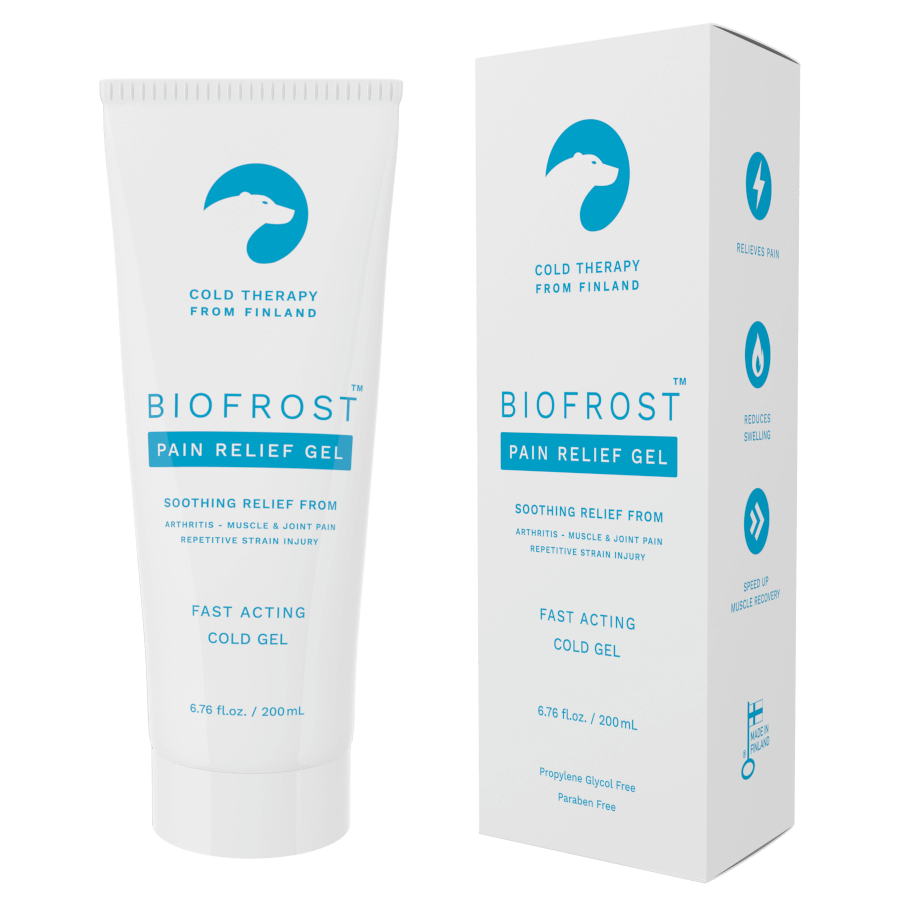 Effective Cooling Ingredients
An optimal combination of ethanol, menthol, eucalyptus and peppermint reduces the surface temperature of the skin and activates the body's TRPM8 receptor, also known as the cold/menthol receptor. When activated, TRPM8 displaces the pain signal to the brain, resulting in alleviation of pain.
Dimethyl sulphone (MSM) is an organic sulphur that occurs naturally in the human body as well as in certain foods. MSM helps maintain joint mobility and alleviates inflammation and muscle tenderness. MSM also has anti-inflammatory effects and pain-reducing properties. It is a vital mineral that is literally stored in every cell of the body.
Our product have several uses:
Alleviating pain

Soothing relief from Arthritis
Strains, sprains, sport injuries and bruises
Neck, shoulder and lower back pain
Muscle and joint pain
Stress pain and muscle tension
Rheumatic pain

Reduce swelling
Accelerating recovery after a workout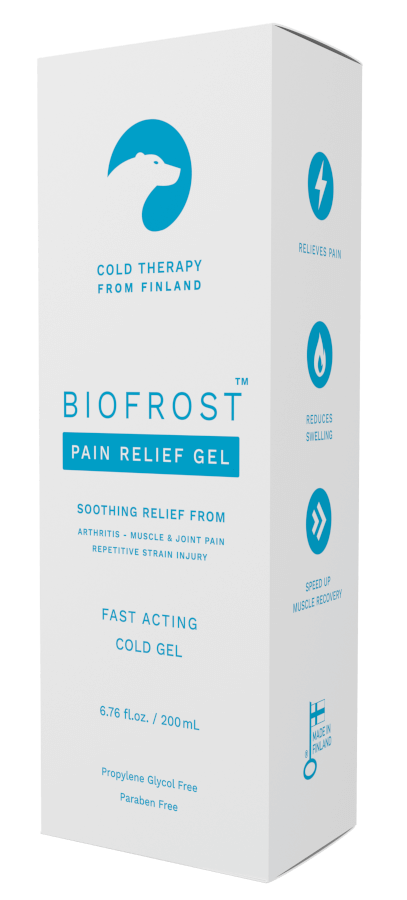 Looking for natural ways to ease pain ?
Many people are worried about taking too many painkillers. The application of Biofrost cold gel directly onto the pain site is a natural alternative for pain relief.
Active ingredients of BIOFROST
The active ingredients are ethanol, menthol, eucalyptus, peppermint and msm. This optimal combination of ingredients relieves pain locally. It can be applied to various body parts, including the foot, ankle, knee, hand, wrist, elbow, hip, back, neck and shoulders.
High-Quality Cold Therapy
We are committed to manufacturing high-quality products using the best raw materials. Biofrost products has CE mark, this mark indicates that the product complies with the European Union's statutory directives.
The efficacy of cold therapy has been proved in several medical studies around the world. In fact, the world's first scientific study was conducted in Finland.
Viking Lab Oy / Biofrost
CEO: Heikki Lehmuslehti
Tel: +358 20 735 3160
E-Mail: heikki.lehmuslehti@biofrost.fi
VAT: FI26181268
Privacy Policy
Viking Lab Oy / Biofrost
Rovaniementie 305
FI-99800 IVALO
Finland
Tel: +358 20 735 3160
E-Mail: info@biofrost.fi