Viking Lab Oy Privacy Policy
If there are any questions regarding this Privacy Policy contact us using the information below.
Who We Are
Viking Lab Oy
Puskuritie 5, Hall 12
33470, Ylöjärvi
Finland
Phone: +358 44 0221422



Company registration number: FI26181268
This Privacy Policy describes how your personal information is collected, used, and shared when you visit or make a purchase from https://www.biofrost.fi (the "Site").
1. PERSONAL INFORMATION WE COLLECT
When you visit the Site, your device, including information about your web browser, IP address, time zone, and some of the cookies that are installed on your device are exposed and collected by tools like Google Analytics, please read more from the Section 5.WHO WE SHARE YOUR DATA WITH. Other than analytics the Site only collects the data which has come from the Site's online orders (read more from section 1.5 Biofrost Online Store Cookies), contact forms or chatbot, please read more from Section 1.5 Biofrost Chatbot. Additionally, as you browse the Site, we collect information about the individual web pages or products that you view, what websites or search terms referred you to the Site, and information about how you interact with the Site. We refer to this automatically-collected information as "Device Information."
We collect Device Information using the following technologies:
1.1 Cookies
Cookies are data files that are placed on your device or computer and often include an anonymous unique identifier.
Biofrost website visitor has option to not allow cookies. For example allowing cookies website will automatically launch Chatbot (online support chat), Facebook Pixel, Google Tag Manager, Google Analytics, Youtube. Please read full report of our cookies from Biofrost Cookiebot report.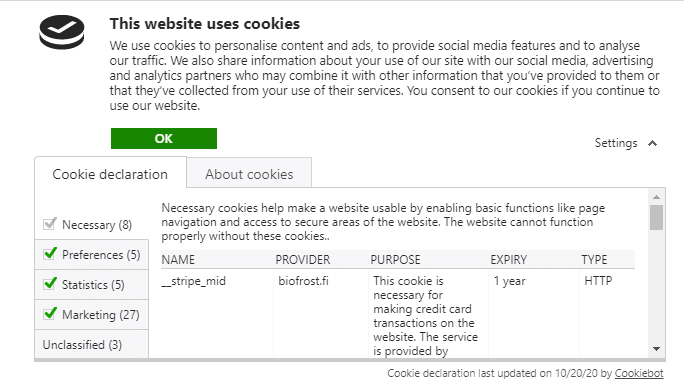 If visitor has Ad or any sort of Cookie/Privacy etc. blocker plugins in browser this Cookiebot window doesn't appear and cookies are disallowed by default. Disallowing cookies will affect website/store user experience which is not suggested. More information about cookies, and how to disable cookies, visit http://www.allaboutcookies.org. Read more about biofrost.fi cookies and change cookies settings from here.
1.2 Comments
When visitors leave comments on the site we collect the data shown in the comments form, and also the visitor's IP address and browser user agent string to help spam detection.
An anonymized string created from your email address (also called a hash) may be provided to the Gravatar service to see if you are using it. The Gravatar service privacy policy is available here: https://automattic.com/privacy/. After approval of your comment, your profile picture is visible to the public in the context of your comment.
1.3 Media
If you upload images to the website, you should avoid uploading images with embedded location data (EXIF GPS) included. Visitors to the website can download and extract any location data from images on the website.
Additionally when you make a purchase or attempt to make a purchase through the Site, we collect certain information from you, including your name, billing address, shipping address, email address, and phone number. We don't collect any Credit Card information. We use Paypal and Stripe for payments which are known to be secure payment methods. We refer to this information as "Order Information."
When we talk about "Personal Information" in this Privacy Policy, we are talking both about Device Information and Order Information.
1.4 We use MailChimp as our marketing platform
Biofrost collects e-mails only for sending newsletters which contain Biofrost product news, Biofrost product offers and other Biofrost related emails (We send emails only with accepted permission OPT-IN emails) using MailChimp services. We use MailChimp as our marketing platform. By clicking subscribe to newsletter, you acknowledge that your information will be transferred to MailChimp for processing. Learn more about MailChimp's privacy practices here.
E-mails are stored as long as user unsubscribes from the Biofrost Newsletter. It is possible to unsubscribe from biofrost newsletters at anytime. Unsubscribe button can be found from every Newsletters footer. Collected e-mails will be used only by Viking Lab Oy (Biofrost), emails will be not shared with anyone else.
1.5 Biofrost Online Store Cookies
1.6 Biofrost Chatbot

When User allow marketing cookies, it will launch Biofrost Chatbot. Chatbot will ask from user Company name and email so we can contact later.
Company name and email data will be stored to our CRM. Biofrost Chatbot is powered by
Pipedrive
. It is possible to review the saved data and delete, just contact us. Please see at the bottom section number 16.CONTACT US
2. HOW DO WE USE YOUR PERSONAL INFORMATION?
2.1 We use the Order Information that we collect generally to fulfill any orders placed through the Site (including processing your payment information, arranging for shipping, and providing you with invoices and/or order confirmations). Additionally, we use this Order Information to:
Communicate with you;
Screen our orders for potential risk or fraud; and
When in line with the preferences you have shared with us, provide you with information or advertising relating to our products or services.
Biofrost online store is enabled only for finnish customers, we currently ship only to Finland, but it is possible to buy from Amazon. We have Amazon Biofrost product listing links which makes it possible to buy Biofrost from entire EU area. Read more from section "1.5 Buying Biofrost from Amazon"
2.2 We use the Device Information that we collect to help us screen for potential risk and fraud in particular, your IP address, and more generally to improve and optimize our Site (for example, by generating analytics about how our customers browse and interact with the Site, and to assess the success of our marketing and advertising campaigns). For Advertising/retargeting we use Facebook Pixel
2.3 To personalize your experience, show better content and useful information for example. Retargeting Coupon codes for products which interest the most.
2.4 To improve our website with statistic which interest people, Biofrost is constantly making website better and more content rich);
2.5 To send e-mails. e-mail address you provide for order processing, may be used to send you information and updates regarding to your order, in addition to receiving occasional Biofrost product news, coupon codes and company information (if opted-in). If at any time user can unsubscribe from receiving future e-mails.
2.5 To contact back if User gave contact details via contact form or chatbot.

3. HOW LONG WE RETAIN YOUR DATA
If you leave a comment, the comment and its metadata are retained indefinitely. This is so we can recognize and approve any follow-up comments automatically instead of holding them in a moderation queue. If you have subscribed to our e-mail newsletter, e-mail address will retain as long as you unsubscribe from our mailing list. Read more from this Privacy Policy section "1.4 We use MailChimp as our marketing platform".
For users that register on our website (if any), we also store the personal information they provide in their user profile. All users can see, edit, or delete their personal information at any time (except they cannot change their username). Website administrators can also see and edit that information.
4. WHAT RIGHTS YOU HAVE OVER YOUR DATA
If you have an account on this site, or have left comments, you can request to receive an exported file of the personal data we hold about you, including any data you have provided to us. You can also request that we erase any personal data we hold about you. This does not include any data we are obliged to keep for administrative, legal, or security purposes.
5.WHO WE SHARE YOUR DATA WITH
We share your Personal Information with third parties to help us use your Personal Information, as described above. We also use Google Analytics to help us understand how our customers use the site, last digits of the website visitors IP-address is anonymized (GDPR requirement). You can read more about how Google uses your Personal Information here: https://www.google.com/intl/en/policies/privacy/. You can also opt-out of Google Analytics here: https://tools.google.com/dlpage/gaoptout. We also use Google Tag Manager which makes scripts handling easier at our website.
Finally, we may also share your Personal Information to comply with applicable laws and regulations, to respond to a subpoena, search warrant or other lawful request for information we receive, or to otherwise protect our rights.
As described above, we use your Personal Information to provide you with targeted advertisements or marketing communications we believe may be of interest to you. For more information about how targeted advertising works, you can visit the Network Advertising Initiative's ("NAI") educational page at http://www.networkadvertising.org/understanding-online-advertising/how-does-it-work.
You can opt out of targeted advertising by:
FACEBOOK – https://www.facebook.com/settings/?tab=ads
GOOGLE – https://www.google.com/settings/ads/anonymous
Additionally, you can opt out of some of these services by visiting the Digital Advertising Alliance's opt-out portal at: http://optout.aboutads.info/.
5.1 Biofrost.fi website is located in France as OVH.com VPS cloudservice, which means user data gets transferred to France OVH servers. Data can be browser related information like cookies and IP address. In this case here effects the OVH privacy policies which can be read from OVH website.
https://us.ovhcloud.com/legal/privacy-policy
5.2 Viking Lab Oy / Biofrost.fi doesn't share or send data outside of the EU area and keeps data only in own server which is in France OVH server. Analytics etc. website related data is only for own use which doesn't get shared with anyone else.
5.3 Payments to Biofrost.fi online store. We use Paypal and Stripe as our payment modules, these are widely used and trusted payment methods.
When you buy from our online store biofrost.fi, your payment information will be transfered to these payment authors Paypal or Stripe, depends which you chose. We use these two payment gateway authors to make sure buying from biofrost.fi is secure. Payment security is handled buy Stripe and Paypal. Credit Card details will be not stored at Biofrost.fi database, these are handled by Paypal and Stripe. Biofrost only save mandatory order information which is required to ship the products. These details will be stored to Biofrost.fi database when order has been done "First name, Last name, Company name (optional), Country, Street address, Postcode / ZIP, Town / City, Phone, Email address, Order notes(optional) and the product details. Read more about Paypal privacy policy. Read more about Stripe privacy policy.
6. PERSONAL DATA BREACH NOTIFICATION
In the event that your data is compromised, Viking Lab Oy will notify you and competent Supervisory Authority(ies) within 72 hours by e-mail with information about the extent of the breach, affected data, any impact on the Service and Viking Lab Oy action plan for measures to secure the data and limit any possible detrimental effect on the data subjects.
"Personal data breach" means a breach of security leading to the accidental or unlawful destruction, loss, alteration, unauthorized disclosure of, or access to, personal data transmitted, stored or otherwise processed in connection with the provision of the Service.
7. DO NOT TRACK
Please note that we do not alter our Site's data collection and use practices when we see a Do Not Track signal from your browser.
8. WHAT THIRD PARTIES WE RECEIVE DATA FROM
Google Analytics & Facebook Pixel. Google Analytics is used for website statistics and behavior. Facebook Pixel is used for marketing/retargeting ads to facebook. These are useful for user since user gets to see content they are interested, which can contain product news, coupons and new product releases.
9. WHAT AUTOMATED DECISION MAKING AND/OR PROFILING WE DO WITH USER DATA
We might only check from which countries orders has became so we can see and improve our Facebook advertising.
We don't do any other profiling with our website user data. We only receive basic information from the orders which are required to ship the products.
10. ACCESS PERSONAL INFORMATION
If you are a European resident, you have the right to access personal information we hold about you and to ask that your personal information be corrected, updated, or deleted. If you would like to exercise this right, please contact us through the contact information below.
Additionally, if you are a European resident we note that we are processing your information in order to fulfill contracts we might have with you (for example if you make an order through the Site), or otherwise to pursue our legitimate business interests listed above.
11. HOW WE PROTECT YOUR / OUR DATA
In all OVH datacentres, access is strictly monitored. To avoid any intrusions or risks, each perimeter is secured with barbed wire fences. The area is also monitored by constant video surveillance and motion detection sensors. Activity both within and outside of the datacentres is monitored and recorded on secure servers, with surveillance teams working on site, 24/7.
In order to control and monitor access to the OVH premises, strict security procedures have been put in place. Each staff member receives a RFID name badge, which is also used to restrict their access. Employee access rights are reassessed regularly, according to their remit. To access the premises, employees must hand in their badges for verification before passing through the security doors.
The datacenters have an even higher level of protection, as only authorized personnel can gain entry. OVH installations are strictly for our own use.
Read more from here OVH Data Security
12. REQUIRED DISCLOSURE
Viking Lab Oy will not disclose the customer(s) information, except if it is demanded by you or where it is required by law. When government(s) make a lawful demand for our customer information from Viking Lab Oy. Viking Lab Oy will only release specific data what has been requested.
13. DATA RETENTION
Information collected by any feature through the Site for example contact forms, newsletter e-mail subscriptions, web forms, live chat, chatbot & online orders we will maintain your Information for our records unless and until you ask us to delete this information.

14. MINORS
The Site is not intended for individuals under the age of 13.
15. CHANGES
We may update this privacy policy from time to time in order to reflect, for example, changes to our website technology, our practices or for other operational, legal or regulatory reasons.
16. CONTACT US
If you have any questions or noticed any errors at privacy policy or biofrost.fi website, please contact immediately so we can fix them. If you would like to make a complaint, please contact us by e-

or by actual postmail to our sales office at ylöjärvi by using the details provided below.
Viking Lab Oy
Puskuritie 5, hall 12
33470, Ylöjärvi
Finland
Phone: +358 44 0221422



Company registration number: FI26181268
Biofrost Privacy Policy has been updated at 12.03.2021

Viking Lab Oy / Biofrost
Rovaniementie 305
FI-99800 IVALO
Finland