What is Rheumatoid Arthritis ?
Rheumatoid arthritis is an inflammatory autoimmune disease that can be very unpleasant and painful. It can also lead to erosion and deformity of the bone.
Rheumatoid Arthritis Symptoms
Pain and inflammation are common indicators of the disease, but the symptoms vary with different levels of arthritis. The first warning signs can be any of the following symptoms:
Swelling in joints
Inflammation and redness
Pain
Burning sensation
Mobility is limited
Rheumatoid arthritis can be very unpleasant and painful. It is an inflammatory autoimmune disease that causes arthritis, which can lead to malformation and bone erosion. Symptoms start when the body's own immune system attacks and destroys the affected joints which are causing the pain and swelling. This can ultimately lead to a reduction in trajectories and bone and cartilage degradation.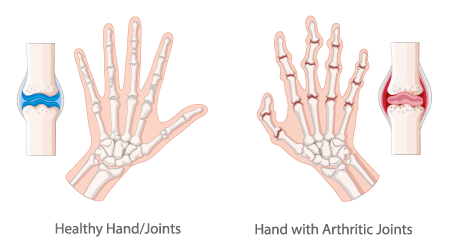 Most forms of arthritis are still unknown. Experts believe there are many different causes: trauma, contagious infection or excessive movement of the joints or age. Genetic and lifestyle behaviours are also considered a cause of the arthritis' development. However, there are ways to reduce the pain and discomfort caused by the arthritis.
Rheumatoid Arthritis Treatment
Treatment forms commonly include exercise, diet, physiotherapy, medication and sometimes surgery to repair joint damage. The main goal of arthritic treatment is to provide pain relief and improve the mobility and strength of the joints.
Treatments for arthritis can help alleviate pain and stiffness, but the disease can continue to progress. In recent years, the treatments have been able to slow down or stop the progression of joint damage. Many rheumatologists recommend trying cold therapy to reduce inflammation and relieve pain and stiffness in joints.
Cooling Relief With Cold Therapy
Biofrost helps to speed up healing and restore your functional ability. The cold therapy gel creates the same energizing feeling of coolness on the skin as ice but without the associated numbness. According to reports, numerous patients have received temporary help with their pain using cold therapy.
Biofrost pain relief gel has several uses:
Strains, sprains, sport injuries
Haemorrhage and bruises
Neck, shoulder and back pain
Sciatica pain
Minor burns and sunburns
Stress pain, muscle tension
Rheumatic pain
Reducing swelling
Biofrost For Rheumatoid Arthritis
To help relieve the discomfort, use Biofrost pain relief gel when you feel pain in the joints. Biofrost lowers skin temperature and reduces pain and inflammation. Once the gel has been applied to the area of pain, it releases heat from the skin's surface. This cold therapy process reduces swelling and pain.
Effective Cooling Ingredients
The cooling effect is based on ethanol, menthol, eucalyptus oil and peppermint. The product has been further enhanced by dimethyl sulfone (MSM), which is essential for joint well-being.
MSM is an organic sulphur that occurs naturally in the human body as well as in certain foods. MSM helps maintain joint mobility and alleviates inflammation and muscle tenderness. MSM also has anti-inflammatory effects and pain-reducing properties. It is a vital mineral that is stored in every cell of the body.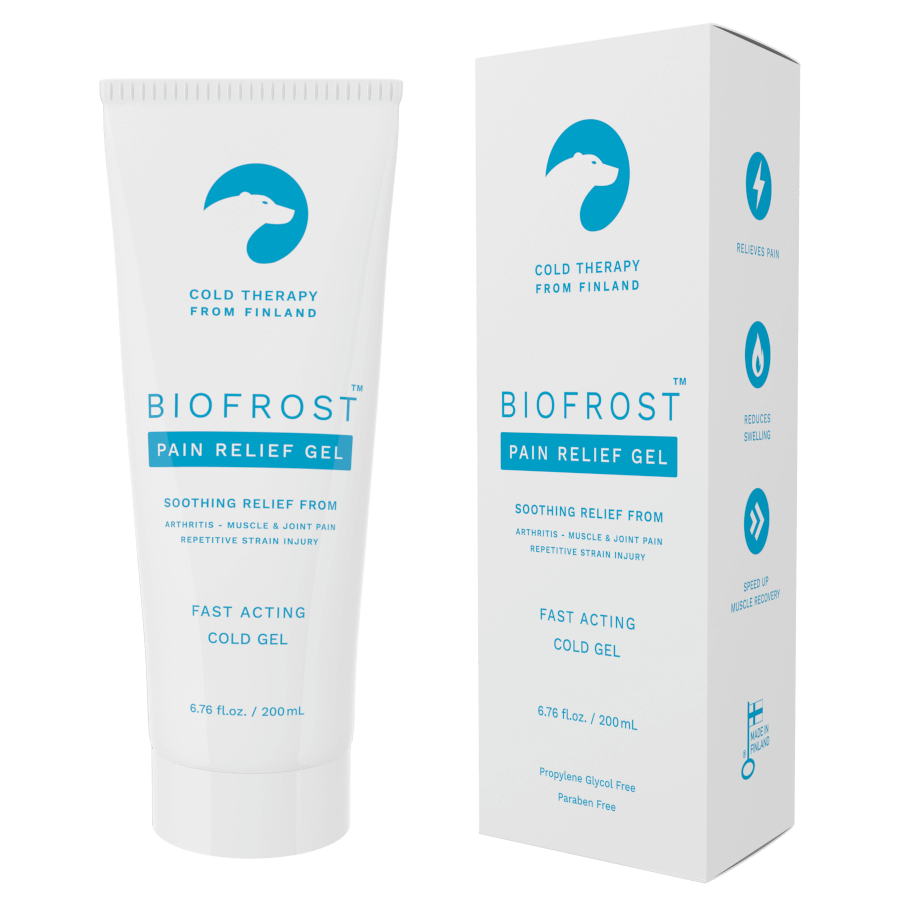 Biofrost – Cold Therapy
Pain Relief Gel